Google Reviews give businesses a big credibility and reputation boost without having to spend a lot of money, while drastically improving your local SEO Score.
That's the Hidden Magic of Reviews!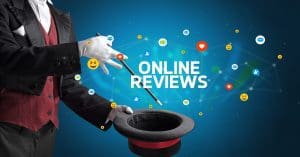 The quality and quantity of reviews on Google is one of the most important ranking factors for local SEO.
We have identified three ways customer reviews can help your business grow.
1. Number of Reviews AND Review Rating Boost Your Rating
Having a clean and positive reviews score will instantly increase your Brand Trust, Online Exposure, Local SEO, Click-Through Rates, and ultimately your overall conversion.
In other words, the more reviews you have, along with your review rating is what helps you stand out among your competitors.
For example, if you have 20 reviews with a rating of 4.9 and a competitor has 20 reviews with a rating of 4.2, Google will favor your listing over your competitor's. And so will the people who are searching for your product or service.
Your listing with great reviews and a high rating provides "social proof" to anyone searching for your product or service. But the real magic of reviews is really found in your response to reviews. Google will send an email to your Gmail account whenever someone posts a review.
---
Don't let your reputation be subject to the whims of bad reviews. Learn how to proactively manage reviews and help your business grow.
---
2. Respond To All Reviews – Good AND Bad
It's very important that you respond to all reviews and respond as quickly as possible. Google will score you on this as well. Once you respond to a review, Google will send an email to the person who provided the review letting them know you responded.
Why is this important? Google wants to see how you manage and treat your customers. Google considers reviews a two-way street or interaction between your business and your customers.
Another way of putting this is that Google considers reviews as a "customer service" vehicle.
3. Beat Your Competitors By Enhancing Your Users' Experience
One thing very important to understand is that a standing Google priority is and always will be "enhancing their users experience." And their users are the people who use their search engine. This is a great way to start beating your competitors.
Here is a cool trick to use when responding to reviews to score big points with Google. Let's say you are a plumbing company and you recently installed a water heater for a customer. Water heater installation and service is one of the services you have listed in your GBP profile and on your website.
This customer writes a nice 5-Star review, mentioning the tech and what a great job he or she did. However, the customer did not mention the service.
So, take a little time, check your work logs, and find the service you performed for this customer. In your response specifically mention 'water heater installation' or 'water heater service.'
Why? These are keywords that Google will remember! The next time someone in your local market uses these keywords when searching in Google, you significantly increase your chances of getting this business.
For even more insights about the value of customer reviews, check out 3 Ways Customer Reviews Can Help You Grow Your Business.
---
Hopefully, you or your Internet Marketing Agency or Website Development Company are staying on top of this! Keep them on their toes and ask!
If you need someone to help manage these key functions, you can reach out to us to discuss them.