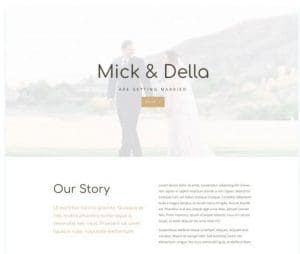 The reasons to have a personal website are voluminous! It's a real challenge for me just knowing where to start. The example on the right shows a website template for a wedding. But, that is just one example.
With any website, it all starts with your URL (Uniform Resource Locator). Let's keep it simple. It's your website address. It's also known as your domain name.
If you do a Google search on personal websites, you'll find a lot of references to marketing yourself and your skills. Sure, that's a great use for a personal website, but there are so many more. In addition to the wedding website on the right, I'll showcase some examples later in this article. You can let your imagination take over. For now, let's start at the very beginning.
---
Personal Website: Define your website address
Since this is a personal website, make it personal! Why not brand you and your name on the Internet? You can visit my personal website to see how I use it here RickSamara.com.
The truth is I have not put a lot of work into this website. I am really too busy helping others with their websites and marketing at this time. I have my structure laid out, but I don't have a lot of content. I will get to it! Trust me!
We recommend Namecheap as the best domain registrar. We have used them for years. All you need to do is register an account and purchase your domain name.  If you work with us, we will do this for you. Plus, we include free shared hosting for a year with Hostgator.
But let me explain why I used my name as my domain name. If any old family, friends, or co-workers ever wonder about me, they can find me on the Internet. If they desire, they can contact me. Furthermore, it immortalizes me and my family. It enables me to tell my story.
You are probably familiar with the holiday letters people send at the end of the year. These letters update their family and friends on that their families' events over the year. Why not just post this content on your website? It's very easy to do.
---

You can send invitations, register guests, manage RSVPs, provide them the location with directions, and even help them with hotel reservations.

---
Let me draw your attention back to the 'wedding' website at the top of the page. A personal website is a great way to immortalize a wedding, a family reunion, a family vacation or special event.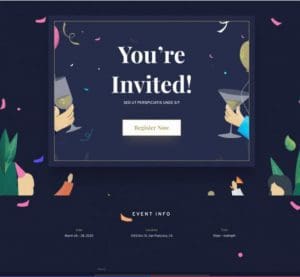 Let your imagination work for you. Furthermore, it is easy to upload photos and videos to tell your story. You can send invitations, register guests, manage RSVPs, provide them with the location with directions, and even help them with hotel reservations. You can manage everything from your laptop, tablet, or smartphone. Just think about the time and money you will save!
---
What are some other uses for a personal website?
This is our Simple Design Template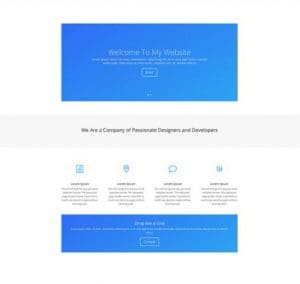 This template serves a number of purposes. In fact, this is the template I used for my personal website RickSamara.com that I mentioned above.
---
Are the designs flexible?
You bet! That's the best part of using the Divi Theme. Over the years, their professional designers have developed over 1,700 design templates. We and you have access to them all.
The most important thing for you to do is to choose the functionality you want in your website. Here are some popular choices:
Photo Gallery
A Countdown Clock for a Specific Event
An Events Calendar
A Map
But rather than me explaining it to you, watch this short Divi documentation video to witness how easy it is to use Divi's powerful pre-made layouts that are included in the Divi library that you can quickly load with just a few clicks of a button.
---
What is the cost?
We are a full service digital design agency. We have three different design and hosting plans. We recommend our Basic plan for a personal website. It has everything you need for a professional, clean website design. Plus, it has all the features of a "professional" website – Mobile-Responsive design so your site is easily read on mobile devices, SSL for safety, SEO so people will find you online, and many other attributes you won't find in other websites at this price.
Why not get started today. It's never been easier to have a personal website!
You will always have access to Elegant Themes' free training on your Divi Theme. We highly recommend you get started with the Simple Theme we mentioned above.
If this is your first website, there will be a learning curve. We will get you started and work with you. In addition, we will provide a 60-minute Zoom meeting with you each month.
Here's a sneak peek at a few training modules.