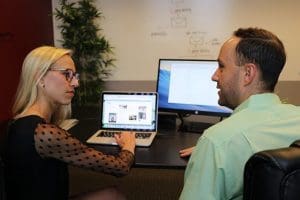 Our Intelligent Website Support is what makes us different from other Internet Marketing Agencies. Our Website Support features technologies and solutions not offered by other agencies.
These technologies and solutions range from ADA Access and Compliance to Chatbots which interact with your website visitors, to Online Presence/Listing Management, to Social Media Management, Reputation Management and much more.
Our Intelligent Website Support focuses on giving Google and the other search engines what they want. We know that if you give Google what it wants, Google will reward you. They will send more visitors to your website. And more visitors means more sales! It all starts with a solid and consistent Search Engine Optimization (SEO) plan.
---
Intelligent Website Support: Our Goal and Methods
Our goal is to have your local business dominate your local market by getting your business listed in the Google 3-Pack. We have developed our methods over the last 14 years. Our Internet marketing performance is measured by our agency's proven conversion rate.
Getting on the "first page of Google" is not good enough. To dominate your local market today you essentially need 5 things:
1. A modern website design that is mobile ready, has a fast load time and has basic SEO (Search Engine Optimization)
2. A fully optimized Google Business Profile Page
3. Relevant and Timely Content; and
4. Strong Online Presence Management in major directories and review sites
5. ADA Accessibility.
Additionally, online reviews, reputation, and social media need to be managed.
---
Are you making these 4 marketing mistakes?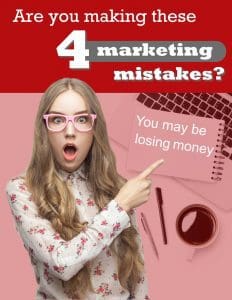 Click to Learn More
---
Intelligent Website Support: Our Offer
Hire us to be your in-house Internet marketing staff. Chances are there is a ton of work to be done. We have refined our process for over 14 years. It is a proven process that works, and we can make it work for your business.
Plus, we have a support staff of over 200 highly trained professionals. It is a lot less expensive to hire us than to have one or two employees do your Internet marketing. We have the experience and the knowledge you need.
Furthermore, our clients are typically small business owners whose major focus is running and growing their businesses. You do what you do best! We will do your Internet marketing.
We have two packages. Find the package that best meets your needs and budget.
---
Tier 1 Intelligent Website Support Package
Your cost is only $455/monthly or $4550/annually (2 months free). There is no cancellation fee. You can cancel at any time.
However, to see tangible results, we highly recommend you maintain your Intelligent Website Support package for at least three months. If you decide to take advantage of our annual plan and you decide to cancel, we will prorate you $379 per the number of months you have paid for.
Our Intelligence Website Support Tier 1 package is a "do-it-with-you" support package. This package is best suited for small business owners that can dedicate some staff hours to do online presence management/list building, social media marketing, and reputation management.
Your appointed staff will have access to some great tools to effectively manage their work.
Cloud Based Business Center with the following tools:
Listing Builder, Listing Distribution and Listing Sync Pro
Social Media Pro
Reputation Management Pro
Customer Voice Pro
Simply Insured (This allows you to generate group insurance quotes without a broker)
Advertising Intelligence
Plus: Personal Training via Zoom Conference Call. A Monthly 60-minute Zoom Strategy Call
(Note: Your preference on Conference Call platform: Zoom, Google Meet or Skype).
A Monthly Report to track progress and growth
---
Tier 2 Intelligent Website Support Package
Your cost is just $850/monthly. There is no annual pay option. This plan includes everything in the Tier 1 package.
Our Intelligence Website Support Tier 2 package is a "do-it-for-you" support package. This package is best for you if you need your staff to focus more on the needs of your customers and scaling your business, and you're ready to outsource most of your marketing.
You still have access to the Cloud-Based Business Center, the Personal Training, Monthly Strategy Call, Monthly Report, and Simply Insured.
Here is what we do:
We manage your Listing Builder, Listing Distribution, and Listing Sync Pro accounts
We manage your Social Media Marketing (2 Posts Monthly to Facebook Business Page, Google Business Profile, LinkedIn, Twitter, and Instagram (beta)). You determine where we post
We do your Reputation Management for you on the Top Review Sites (Google Business Profile, Facebook Business Page, and Yelp.
We respond to both positive and negative reviews. In the case of negative reviews, we will coordinate with you before posting.
We use custom templates to request reviews from your customers or clients. All we need are their email addresses and we will send the request on your behalf. If you are doing any paid advertising, we can connect that to Advertising Intelligence.
We significantly improve your Local SEO by accomplishing the above tasks for you!!
We will produce Relevant and Timely Content for you. This includes one fully researched and SEO'd blog post or article with a summary video for your website. This summary video is additional and fresh content that can be published on Facebook, Google Business Profile, YouTube, etc., then linked back to your website for even more SEO juice!
We provide a full-service SEO package that is ideal for businesses that want to rank higher on search engines for their local business.
We target 7 Keywords, which consist of your actual location. We also do offsite link building. Your website gets 10 backlinks every month.
---
In summary, we want to be your in-house Internet marketing staff. We have the knowledge and experience to help your business dominate in your local market.
Our intelligent website support packages were created with you in mind. We know what it takes. That's because we have been doing this for years and now have smart, intuitive cloud-based software streamlining our work.
You also have access to this software. We can do it with you, or we can do it for you. The choice is yours.
Plus, our support packages are affordably priced for small businesses desiring to get ahead of their competition with the option to scale up their Internet marketing.
And our pricing makes it easy for you to get started. Let's get started. Click the "Get Started Now" button to book a Zoom meeting with a member of our staff.