List Building equates to online presence management and online presence management is fundamental to local SEO and local search marketing. Local SEO is becoming increasingly important to Google and the other search engines.
Do not confuse this article with list building to build an email marketing list. This is much different. Yes, it it important to build a email marketing list of clients. An email marketing list is an very important tool that enables you stay in contact with your clients and customers.
In the context of this article, list building is a discipline defined by Google and the other search engines. It is important to you because If you give Google what it wants, you will be rewarded. If you want your business to rank in the Google 3-Pack, you need to practice sound and consistent list building or online presence management.
The Google 3-Pack is the way Google displays results when users make a local search. But it does take effort to earn a position in the 3-Pack. The first thing you need is to claim and verify your Google Business Profile page.
Within the 3-Pack are three Local businesses, a map of where they are located, and basic information about the businesses. This is very coveted real estate in the local search marketing world. Google is essentially telling its users that these three businesses will solve their problems. It is also Google's way of rewarding businesses that follow their rules.
Furthermore, list building is important to any small business because if a business's listing is incorrect or missing, consumers will feel less confident about the brand, likely leading them to choose a competitor's product or service. The availability of accurate listings ensures customers are able to find brick and mortar locations while they are open for business. Or. quickly contact a service contractor like a plumber or electrician in an emergency.
More importantly, if a small business has inaccurate listings they will not earn Google's trust and will not show up in Google search. There are a "number of ways to skin a cat," and we have used a number of different services for list building in the past. We are familiar with services like Advice Local, Yext, Moz, etc. We have settled on a suite of three tools for online presence management: Listing Builder, Listing Sync Pro and Listing Distribution.
---
Listing Builder is a free app if you have registered for a Local Online Business Toolkit account. It forms the foundation for your list building. It enables you to build your NAP (Business NAME, Business ADDRESS & Business PHONE number). With 85% of consumers browsing online to find a business, it is more important than ever to be showing present and accurate NAP.
With online search growing at a rapid pace, it is more important than ever to ensure your business listings are present, accurate, and protected from unwanted changes. Listing Sync Pro gives you a single dashboard to control how your business appears across the internet.
With the click of a button, you can instantly create and update listings across an established network of sites. Have you decided to change your business hours? Simply make the changes on your dashboard, hit save and your new hours will be posted instantaneously.
Better yet, it keeps your business information protected from third-party changes, keeping you in control of your listing. You will get found on search engines, social networks, mobile apps, navigation systems, and more with Listing Sync Pro!
---

With 85% of consumers browsing online to find a business, it is more important than ever to be showing present and accurate NAP

---
Listing distribution submits and monitors your business information across four data aggregators: Neustar/Localeze, Data Axle, Foursquare and Factual. These aggregators share your business information with a network of directories that power search engines, navigation systems, voice search, mobile apps, and more. Plus, they ensure that your listings are accurate and this enhances your local SEO. They also power modern applications such as Apple's Siri.
In summary, List Building is a function that will significantly enhance your local SEO and result in more business. Listing Builder will establish your foundation. Listing Sync Pro will protect your business listings, and combined with Listing Distribution will significantly improve your listings over time.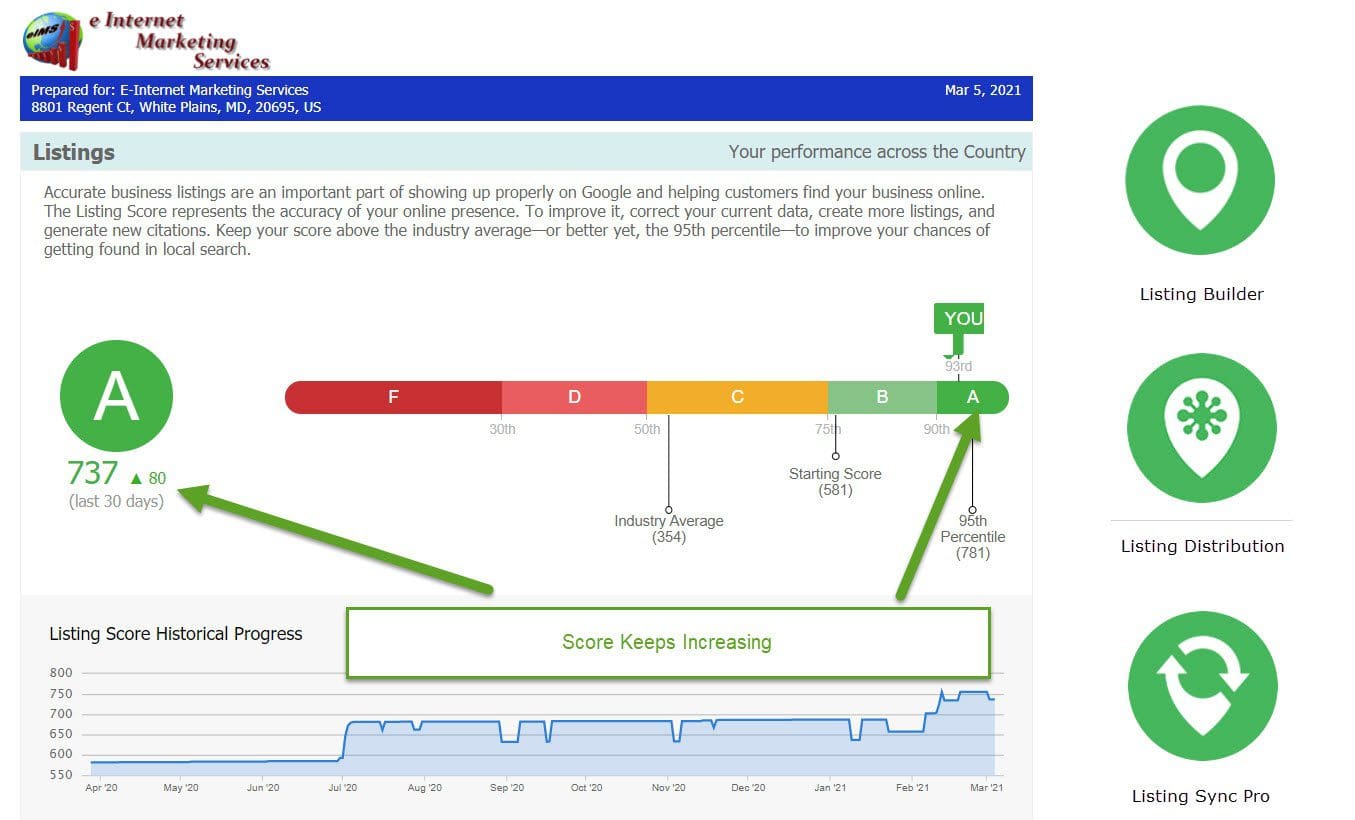 The screenshot above shows you the impact of using these three applications together. We started using Listing Builder. We were doing well. We were above the industry average with a score of 581, but we really wanted our scores in the 95th percentile. As you can see, our listing score continues to increase. We will easily be in or above the 95th percentile in a couple of months. You can achieve similar results with your business by using these three applications together.
But, see for yourself. Try it! The first thing you need to do is simply register for the free Local Business Online Toolkit.
Get the Local Business Online Toolkit
Once you are registered, we will reach out to you to schedule an Onboarding Zoom meeting.