Internet marketing performance is measured by an agency with a proven conversion rate.
A proven conversion rate can only be depicted by showing actual sales. The purpose of this article is to show the components we use to maximize our Internet marketing performance.
We start by using an integrated internet marketing strategy that focuses on our clients having a properly SEO'd business website and a Google Business Profile (GBP) page. Our process is geared toward getting our clients into the Google 3-Pack.
---

We are successful, not only getting this business into the Google 3-Pack, but also getting him to the top position.

---
As shown on the left, our client, the Law Offices of Daniel J Guenther, sits at the top of the Google 3-Pack. This is prime Internet Marketing real estate.
Google is essentially recommending our client to their customers looking for a "bankruptcy attorney in Waldorf," Maryland.
We are successful, not only getting this business into the Google 3-Pack, but also getting him to the top position. However, this is not proof of a conversion rate.
Tools Used to Reach Our Internet Marketing Performance Goals
Before we show our proven conversion rate, we will provide you an idea of the tools we use to get our clients into the Google 3-Pack. In all cases, the tools we use are
Organic search engine marketing,
Local SEO,
Social Media Marketing (Facebook Business Page),
Online Presence Management (List Building),
Reputation Management,
A GBP page and
Content marketing via a blog or articles section on their business website.
Reputation management had a lot to do with this business's dominations in the Google 3-Pack. It sent Google the important signals they want to see to award a ranking like this. We ensured that all Google Reviews were responded to in a timely manner.
---
Our Internet Marketing Performance: We Have the Proof!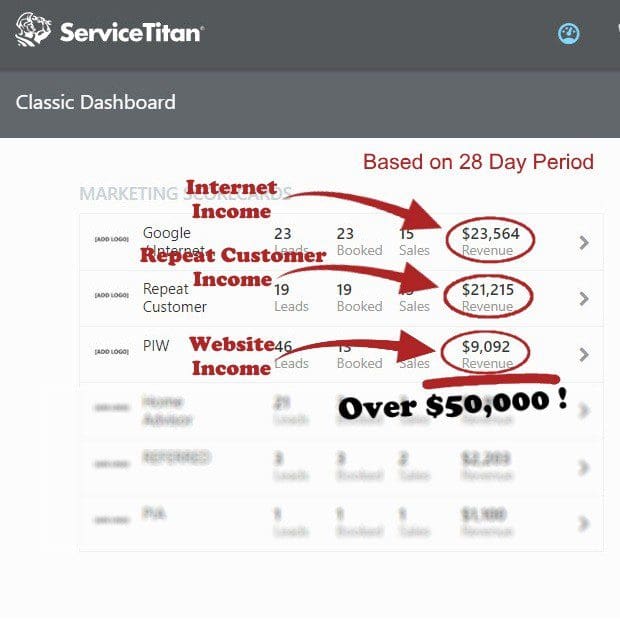 Our Internet marketing performance is proven by the conversion events in this example. The three key metrics are:
Internet Income (conversions) coming directly from Google
Repeat Customer Income and;
Website Income
Actual conversion events, in this case actual income, are hard to get. However, we had a unique relationship with this client.  We had access to his Service Titan account.  This allowed us to track various marketing funnel components that we developed.
The Internet Income was easy to track. It came directly from the client's Google Business Profile (GBP) page. We were able to master local search for this client by having his GBP page dominate his local market for certain keywords.
The Website Income was also easy to track. We assigned a tracking phone number to his PIW (Plumbers in Waldorf) website.We were extremely pleased with this company's Repeat Customer Income. It signifies several things. First and foremost, it shows that they have happy customers and provide excellent service. Secondly, it validated our efforts to ensure that all his GBP reviews were promptly responded to.
Another tool we use on all our websites is the box you see below. This is located at the bottom of the website's Contact Page. It tells us where some the business leads originate and it also grants us permission to place the client on the businesses email marketing list.  We can email them to provide news, updates and special offers. It does not measure conversion or actual sales, but it does provide valuable data.

---
A Robust Marketing Funnel
As you can see, this client had a rather robust marketing funnel that we helped develop. It included a Facebook Business Page (not showing results here), Home Advisor, a second website (PIA) Plumbers in Alexandria among other things.
We truly use a holistic approach in managing our client's businesses.
---
Want to see how your small business website is performing? We are now offering an Internet Marketing MRI for small business owners. This is a free Internet marketing evaluation of the effectiveness of your website and the many other factors that have an impact on local search and search engine optimization or Local SEO.